Shark Tank star Daymond John on nurturing the next generation of entrepreneurs. XPRIZE founder Peter Diamandis on leveraging the wisdom of the crowd for breakthrough discoveries. These are just two of the big thinkers Gulf Coast has brought to our region to discuss emerging challenges and opportunities before they make headlines.
2020 Better Together luncheon with Dr. Sylvia Earle
---
Through our Better Together series, Gulf Coast Community Foundation welcomes innovators and thought leaders to help educate our community on critical issues and pitch big ideas for regional transformation.
Harvard sociologist Robert Putnam kicked off our inaugural Better Together event back in 2004 with a lecture on the value of social capital to strong communities. Putnam is the author of the groundbreaking books Bowling Alone and its follow-up, Better Together, which gave our series its name. His appearance served as a platform for Gulf Coast to release our region's first study on social capital with actionable recommendations for enhancing it.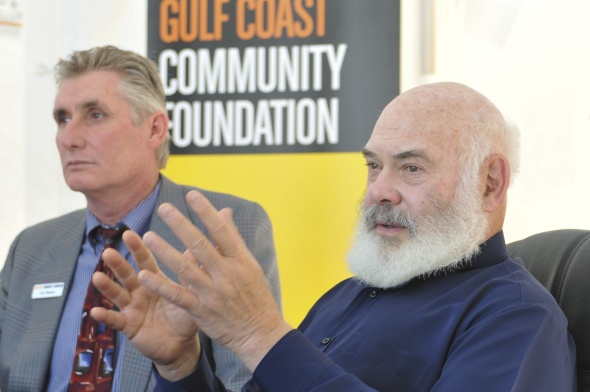 In the years since, our community has explored:
Educating the next generation for a globalized world with New York Times columnist and The World Is Flat author Thomas Friedman;

Empowering charities to leverage the tools of capitalism to solve our grandest challenges with social entrepreneur Dan Pallotta); and

Countering the one-two punch of hunger and obesity in our communities with nutrition guru Dr. Andrew Weill.
With Gulf Coast's current focus on moving our region toward an innovation-based economy, recent guest speakers have given us a glimpse into the future and shared insights on how our region can shape it. Silicon Valley's Salim Ismail blew our minds with his presentation on exponential change and how we can harness it for good.
In 2015, XPRIZE Foundation chairman and CEO Peter Diamandis challenged us to foster a community-wide culture of innovation. He also helped launch our region's own incentive-grant challenge, the Gulf Coast Innovation Challenge, which aimed to seed and fund innovative ideas for growing our Blue Economy while sustaining marine resources.
In 2016, FUBU founder and Shark Tank star Daymond John helped democratize the entrepreneurial mindset, insisting creativity and innovative thinking aren't just the domain of start-ups but are equally needed in big businesses and grassroots charities alike. 
We hesitate to call Better Together an annual event, because our Board insists we only bring the best speakers to discuss timely topics that are critical to our region. But as we continue to lead forward by leaning forward, looking for what's around the bend, Gulf Coast remains committed to identifying the brightest minds out there and inviting them here to benefit our community.