With the resources in our community, no child should have to sleep in a car. Yet as many as 1,000 students in the Sarasota County public school system are identified as homeless each year. And that count misses their younger siblings and the additional families who hide their circumstances for fear of being separated.
---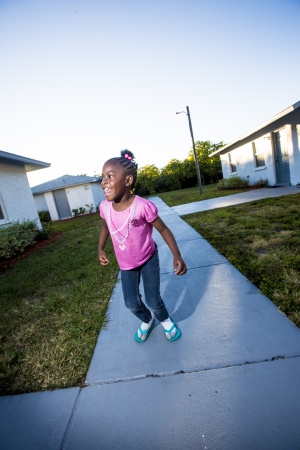 When Gulf Coast began investigating this issue in our region several years ago, we found that there were dozens of agencies here doing heroic work to assist homeless families. But there was no comprehensive system of care tying all of that work together, ensuring that these families would graduate to safe, permanent homes.
Gulf Coast made a commitment to transform the way our region cares for homeless children and their families. Together with our donors and
nonprofit partners, we are stabilizing families who are homeless now while preventing others from losing hope.
We focused on filling gaps in services by constructing a virtual network of service providers anchored by seven lead agencies, the Family Haven Alliance of Sarasota County. Family Haven Alliance case managers meet weekly to coordinate individual families' needs. Additionally, a leadership team of their CEOs meets regularly to work on policy-level changes required to implement their coordinated efforts.
Gulf Coast also hosts bimonthly meetings with dozens of additional service agencies that support the Family Haven Alliance, to continue identifying gaps in services and determine who will take the lead in closing them.
Our Impact (So Far)
Our goal was to develop a long-term, systemic solution to improve coordination and delivery of services for homeless families in Sarasota County. Gulf Coast Community Foundation's role has been that of convener, leader, and funder, providing service agencies with the support to transform their individual efforts into a comprehensive system of care.
After months of working together on family cases to identify and then close service gaps, the agencies themselves took the lead in running meetings, assigning responsibilities, and developing protocols for their collaborative work. That was our sign that a true system, one focused on community outcomes rather than agency outputs, was taking shape. Here are just some pieces of the system that we have helped to create or enhance:
» The Family Haven Alliance was formed by seven lead service agencies to coordinate master case management for homeless families with children.
» Two emergency "family havens" were established in northern and southern Sarasota County to stabilize and temporarily shelter families in crisis.
» Master case managers now coordinate services across dozens of agencies.
» A uniform database – the Homeless Management Information System (HMIS) – is used to share information and track services across these agencies.
» New supportive housing has been secured to help once-homeless families graduate to permanent homes.
In the process, we also identified concentric needs of homeless families that jeopardize their long-term ability to thrive. Together with our partners, we are now addressing issues like mental and dental health and financial sustainability through new initiatives and partnerships.
Help Homeless Families
Click below to contribute to our Homeless Children and Families Fund.