Can a community be said to have laid a proper foundation if it can count among its members even a few for whom the most basic needs are not being met? Between Sarasota and DeSoto counties, almost 60,000 residents don't always know where their next meal will come from. At least one in four of them is a child. 
---
Even as thousands of families in our community face food insecurity or hunger on a daily basis, obesity and related health issues have grown to epidemic proportions. Sarasota County spends over $20 million annually on health and human service programs, yet the need for and cost of those services continue to climb.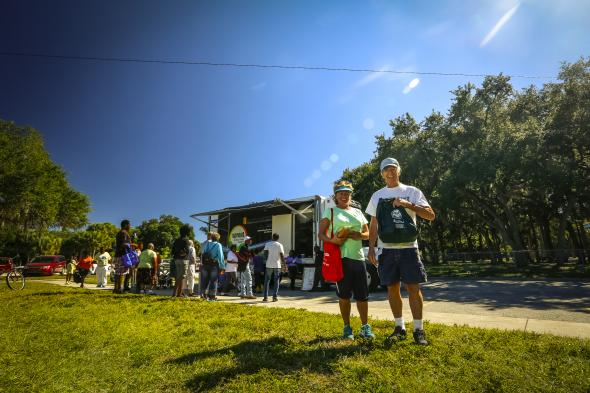 "Hunger and obesity are flip sides of the same coin," says Sandra Frank, CEO of All Faiths Food Bank, the hub of the hunger-relief system in Sarasota and DeSoto counties.
"Food-insecure people consume more high-carbohydrate, high-calorie, low-cost food to stave off hunger."
Recognizing the long-term costs, both social and fiscal, of ignoring these twin challenges, the Gulf Coast Board of Directors acted to change things, quickly.
Seeding Change
Gulf Coast partnered with All Faiths to create Feeding Hungry Families, an initiative focused on data driven, systemic solutions to the problem of food insecurity in our region.
We started by engaging a group of philanthropists, our Hunger Design Team, to help us analyze the numbers on hunger in our region and seed the funds to implement solutions. Gulf Coast also funded two key research projects, regional participation by All Faiths Food Bank in the country's largest national study of charitable food distribution, and a first-of-its kind study of child hunger here in Sarasota and DeSoto counties. 
While researching the extent, patterns, and root causes of hunger and poor nutrition, Gulf Coast and All Faiths identified immediate needs and how to meet them. An early "gap filling" investment helped the food bank purchase "Sprout," a custom-built truck that delivers fresh fruits and vegetables along with nutrition education to neighborhoods that need them most. Funding for Sprout came from a variety of sources, including our Hunger Design Team, the Venice Yacht Club Charitable Foundation, and Bloomberg Philanthropies.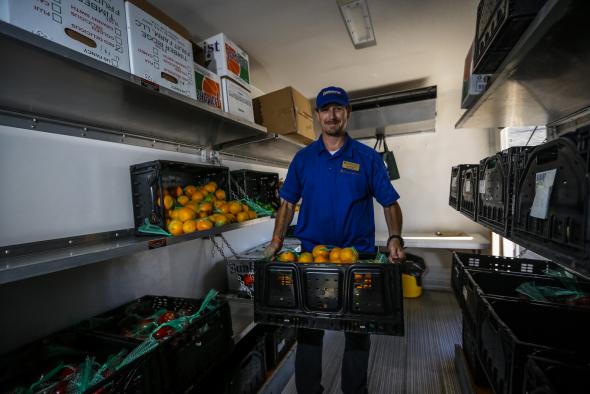 The first of our two major hunger studies was released in March 2014. On the Edge revealed alarming numbers of food-insecure children in our region who worry about the source and quality of their next meal at home. The analysis underscored concerns that students who receive free or reduced-price meals during the school year are at serious risk of experiencing hunger over the summer months.
To strengthen the supply and distribution of food in the summer, Gulf Coast and All Faiths Food Bank launched the "Campaign Against Summer Hunger" to promote donations of cash and nonperishable food from the community. CASH and Cans, as the campaign was dubbed, raised more than $1.2 million and 800,000 pounds of food in the spring of 2014. All Faiths has repeated the campaign each year since, and this year served a total of 30,000 children throughout the summer. 
Read more from our Spring 2014 Proaction on how we're changing the hunger landscape.