Tens of thousands of Sarasota County residents live in poverty. Despite the proliferation of financial-literacy programs, poverty continues to be a national epidemic. To help improve the likelihood that struggling families in our region will emerge from poverty and become financially self-sufficient, Gulf Coast partnered with United Way Suncoast to create a brand new approach to financial-literacy programming.
---
This is a past initiative of Gulf Coast Community Foundation. 
The premise of many financial-literacy programs is that educating those in poverty on money matters will lead them to make better financial choices. But research shows that better information alone may not lead to better decisions.
"The problem is not that people living in poverty are any less capable, intelligent, or responsible than people with more wealth or higher incomes," according to a 2015 study. "Its that key features of life in poverty interact with human psychology in ways that make it difficult to solve problems, make decisions, and exert self-control."
Further, according to a 2004 paper on generational poverty, for those in poverty, "the hidden rule for money is to spend it. Small amounts of money will not be enough to solve the deep financial problems of the family, so it should be used on the immediate needs of individuals in or near the family." 
Simply educating those individuals on the benefits of interest-bearing accounts, how to balance a budget, or differentiating between wants and needs will likely have minimal impact on cultural behavior. Financial sustainability begins not with how people think about choices involving money, but rather with how people think about money itself.
A New Approach
Gulf Coast and United Way Suncoast's Financial Sustainability partnership focuses on three strategies:
learning basic financial education, with behavioral coaching
building financial assets 
securing alternatives to pay-day loans and other high-cost debt

The long-term objective is to move families out of generational poverty by increasing their financial literacy and encouraging positive financial decisions. Gulf Coast funds the initiative, while the United Way leads operations.
The initiative is a highly incentivized, low-barrier approach to financial literacy and mentoring, with a high ratio of coaches to clients. It also provides clients with a gateway to financial products that gives them access to asset-building opportunities.
"We looked regionally and nationally at existing financial-literacy programs, to see what works and what doesn't," says Mireya Eavey, Sarasota Area President of United Way Suncoast.
"This initiative seeks not only to increase knowledge of financial concepts, but also to change how our participating families value money and improve their decision-making process related to it."
That approach is possible thanks to additional community partners. Agencies such as The Salvation Army - Sarasota Area Command and Harvest House identify families to participate in the program. Local financial institutions also signed on to provide clients with new access to banking. IBERIABANK, for example, opened matched savings accounts for each of the first 20 participating families.
"The average individual without a checking account will spend $40,000 over their lifetime on financial fees," noted United Way's Eavey. "Access to bank accounts for these families may be the difference between building emergency savings and turning to high-cost debt."
Critical to success for clients is intensive interaction with volunteer financial coaches. While many financial-literacy programs aim for efficiency by providing a single instructor or coach for a large group, our initiative matches just two clients to each coach, allowing for greater interaction and helping to build trust, accountability, and motivation.
Expanding the Safety Net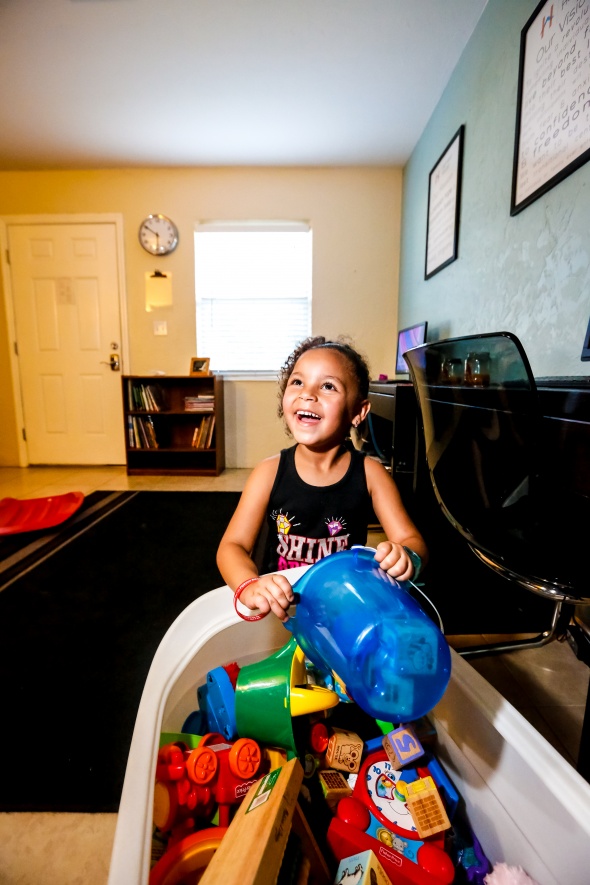 The Financial Sustainability Initiative is an extension of Gulf Coast's Homeless Children and Families initiative, which has expanded and improved coordination of social services for homeless children in Sarasota County Schools. 
"Even with a roof over their heads, many of these families are just a health emergency, car breakdown, or job loss away from being back on the street," says Gulf Coast's Jon Thaxton. Almost half of the 20 families that participated in the first Financial Sustainability class previously came through the emergency family shelter system created through Gulf Coast's homelessness initiative.
Gulf Coast and the United Way aim to serve a total of 180 families over three years through this initiative. The program's scalability means that success could lead to even greater numbers.
"A quarter of Sarasota County households pay more than they can afford for housing - with many paying over half of their income," says Gulf Coast's Thaxton. "That burden leads to risky decisions to make ends meet. This initiative takes a new, custom approach to helping families in our community make better choices, build financial assets, and become self-sufficient."