One year has passed since we launched Project HEAL: Helping Everyone Align with Love. This project is funded by a caring, generous philanthropic friend of Gulf Coast who invested in our Adult Homelessness Initiative to help our homeless services system become more trauma-informed and address the root causes of homelessness.
Gulf Coast's anonymous donor had a passion for positive change and trusted in Gulf Coast's expertise and leadership model to carry out their vision. Through their significant gift to Gulf Coast, they wanted to help individuals gain safety and access the supports needed to heal, and leave homelessness behind forever.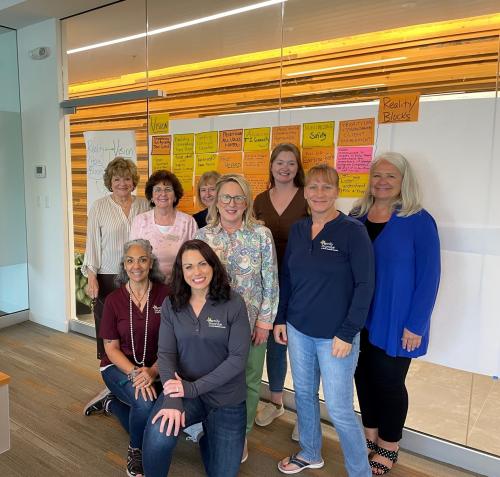 Gulf Coast's Director of Community Leadership, Jennifer Johnston, convened a Steering Committee of local experts to design a year-long technical assistance program for homeless service providers. The goal is to support them in incorporating client feedback into the development of their programs and services. Steering Committee members are: Dr. Andrea (Andy) Blanch, specializing in trauma and systems change; Rebecca Gannon, graduate of Harvest House programs, mentors women in substance abuse recovery overcoming homelessness; Jennifer Johnston, background in community health, Here4YOUth Mental Health Initiative; Christie Nolan, nonprofit consultant with expertise in strategic planning and performance improvement, project coordinator for Project HEAL; Jim Rouches, Executive Director of The Crossings, graduate of Harvest House; Dr. Sidney Turner, founder of Resilient Retreat, specializing in trauma treatment; Joe Vasta, graduate of Harvest House programs, works on behalf of those overcoming homelessness, U.S. veteran.
Four agencies were selected through an application process and they have been working on positive organizational change. They've completed training with consultants Leading Impact, Resilience Builders, and Team Tech. The technical assistance team was selected by the Project HEAL Steering Committee.  
The four agencies selected to participate are: Community Assisted & Supported Living (CASL), Family Promise of South Sarasota County, Harvest House, and Suncoast Partnership to End Homelessness. Each agency has formed an internal Change Team who will assist with implementing trauma-informed practices and policies. In March of 2023, the agencies conducted two-day Strategic Thinking Retreats with consultants. These four agencies will be eligible for grant support to test out trauma-informed interventions and launch their strategic plans.
Gulf Coast is walking alongside these homeless services providers as they strive to see through the eyes of their clients and assist them to heal from trauma they have experienced. We are helping the agencies reorient their policies and practices to create a safe space for all - staff and participants. The goal is creating a community where all people have choice, a voice, and feel encouraged on their journey.
"This is about the platinum rule - treat others the way they would like to be treated," stated Erin Minor, Chief Executive Officer, Harvest House.
Stay tuned for more on this topic.
---
MORE NEWS