Today, we are remembering and reflecting on the one-year anniversary of Hurricane Ian with stories of hope and perseverance from our nonprofit partners.
Our Hurricane Ian Recovery Initiative has supported over 200 grants to our strong nonprofit partners paving the way in recovery efforts. Together with philanthropic families, we have provided $3.5 million in immediate relief to area nonprofits devastated by the storm. With a focus on health and human services needs in southern Sarasota County including hard-hit Venice, North Port, Englewood, Charlotte County, Lee County, and DeSoto County, we were able to provide help to our region just days after the storm's impacts were realized.
We provided Venice Theatre with multiple grants totaling $640,000 to support their staff and the rebuilding of the Jervey Theatre. The theater has maintained its staff and is working diligently on redesign and rebuilding efforts. 
A funding commitment of $1 million over three years to the Boys & Girls Clubs of Sarasota and DeSoto Counties was approved by our Board of Directors to rebuild the Gene Matthews Club in North Port that was destroyed by Hurricane Ian. Prior to the storm, the Club provided over 450 children and teens with award-winning programs that empower them to become great leaders.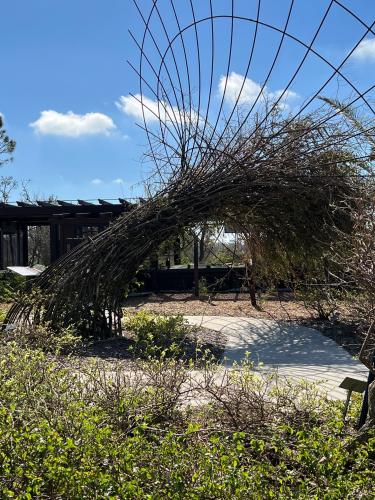 Peace River Botanical & Sculpture Gardens in Punta Gorda took a direct hit from Hurricane Ian and received $20,000 from our Hurricane Recovery Initiative to assist them in re-opening to the public. Tanna Horner, executive director, recently shared, "We lost 250 trees and 80% of our plant life. I reached out to Gulf Coast for help and the speed and efficiency they gave was incredible. The grant allowed me to keep every staff member employed." 
Children First received a $50,000 grant from us and reflected, "At Children First, we had families and staff that were in essence, immediately homeless. Prior to the hurricane, the families we serve are in the position of being the most economically vulnerable. We are so deeply enmeshed with our families and staff, and we were able to provide this tremendous support because of Gulf Coast's immediate, responsive humanitarian support. That also allowed us to begin addressing their emotional well-being almost as immediately as we were addressing physical well-being." 
We heard from Ashley Coone, Links2Success co-founder and executive director in DeSoto County who received $15,000 from Gulf Coast, "Thanks to the funding from Gulf Coast Community Foundation, Links2Success is now able to address the post-secondary planning needs of students affected by recent disruptions. This support has enabled the implementation of measures that will have a lasting impact on students in DeSoto County for years to come." 
Mental health services were a critical need following the storm. Tri-County Counseling received a $15,000 grant to support services in their North Port Office, and Dr. Charlton Cerbone, CEO and clinical director, attributes the grant to a necessary expansion in services.  "Our mental health and substance abuse grants have made a transformative impact within our community. By providing crucial funding to local organizations, we've significantly expanded access to vital mental health services and substance abuse treatment. Together, we're breaking barriers, offering hope, and fostering a stronger, more compassionate community." 
Together, with the generosity of the community, transformative Hurricane Ian recovery has provided strength for rebuilding and future storm preparedness.  
To learn more, click here.
---
MORE NEWS