Some people never stop giving.
Last summer, we shared a newspaper story about longtime donor, volunteer, and beloved Englewood matriarch Annette Dignam shortly after her passing. It fondly chronicled Annette's history of service and philanthropy and her influence on the same in her children, grandchildren, and so many others she touched.
But Annette's charitable legacy doesn't only live on in the deeds of those she's inspired. Thanks to smart and selfless planning, yet another gift from Annette was recently realized, when a life insurance policy she left to Gulf Coast was turned into significant grants to a slew of local charities.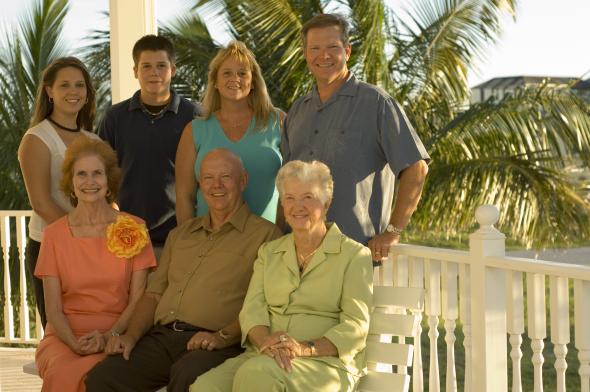 Annette's husband, Tom, and their children, David Dignam and Leslie Edwards, together selected the 12 organizations to benefit in her memory. The causes reflect the range of interests this family has championed over the decades—from arts and culture to youth enrichment to basic needs for families. (See the full list of recent grantees at the end of this story.)
"Tom and Annette—and the whole Dignam family—have been such generous supporters," says Andy Sandberg, CEO of the Hermitage Artist Retreat, where Leslie serves as a trustee and one of the groups to benefit. "The Hermitage would not be what it is without the longstanding generosity, kindness, and love of the Dignam family."
"We wouldn't be as successful as we are without their support," adds Mark Lee, chief operating officer of the Denise Amber Lee Foundation, where David is currently chairman. "Tom and Annette have been stalwarts in our community for many decades, and they have passed that legacy on to their children and their grandchildren."
Family Philanthropy at Its Finest
The Dignam family is well known around Englewood for its leadership and service.
Tom helped grow his father George's Key Agency into the insurance and real-estate institution it is today. David and his son, Brandon, now run the third- and fourth-generation family business. Annette, meanwhile, helped raise and educate a generation of Englewood youth as a teacher.
As with many civic leaders, work and community have always blended seamlessly for the Dignams. So much so that they don't always realize they're giving back! "I remember one day after a long meeting spent discussing their charitable plans, Tom ran out to his car to get some papers and I noticed it was filled with shoe boxes," recalls Kirstin Fulkerson, Gulf Coast's senior vice president for philanthropy. "Turns out he had seen a sale at a local store that morning that was too good too resist and bought so many pairs of kids' sneakers, I'm not sure how he managed to drive amid the boxes! Tom said he was heading to a couple of local schools to donate them later that day. Being married to a teacher, he believed that teachers knew better than anyone which kids couldn't afford new shoes. So he always wanted them to make sure the kids in need got them. That's just how the Dignams live their lives."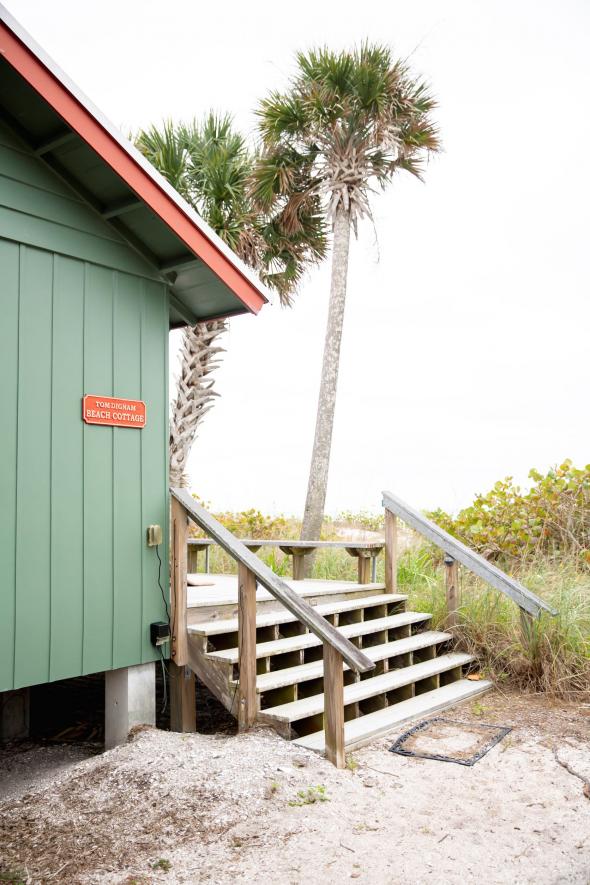 Tom and Annette continued to volunteer and give extensively after each retired. With a disarming style and quick smile, Tom has been Englewood's indefatigable fundraiser. He helped make organizations from the Hermitage to Kids' Needs of Greater Englewood viable through sheer (good) will.
"Three of our artist studios are housed in the Dignam Cottage, a beautiful beachside property that Tom not only generously contributed to financially, but also helped to build and restore with his own hands," says Sandberg. "Some of the artists once commented how nice it was that we were naming the building after the 'handyman' they saw around the grounds. Little did they know the full extent of Tom's passion and history with the Hermitage!"
Annette held a special place for children and education in her avocations. Her leadership service included long stints on the boards of the Education Foundation of Sarasota County and State College of Florida, Manatee-Sarasota.
Community as Beneficiary
Tom and Annette came to Gulf Coast through David, who served on the foundation Board for six years, two as Chair.
The couple started with a scholarship fund, named for Tom's father, to benefit Lemon Bay High School students. They added a scholarship fund in their names and a family foundation to support the Dignams' wide range of charitable interests. An annual highlight for Annette and Tom was lunch at an Englewood restaurant with all of their scholarship awardees.
There's also an endowment for preservation at The Hermitage and another for a writing residency named for Annette in partnership with the Hermitage and State College of Florida. "We celebrate that endowed gift with a residency and beach dinner in Annette's honor every year," Sandberg says. "She continues to smile over us and ensure always-perfect weather for our beach programs."
Considering the breadth and depth of the Dignams' philanthropy, it's no surprise that Annette continued to make significant new impacts this summer through her gift of life insurance. But it is stirring and humbling for us at Gulf Coast.
"My family is proud of the partnership we have had with Gulf Coast Community Foundation through all these years," says David. "The staff has helped us maximize gifts to area charities and projects. Our Mom's memory will live on by her gifts that will allow so many to benefit from her generosity." 
As for Tom, he told us many years ago: "You can't take things with you. There are so many things you can do, and the foundation is one of the ways to give back."
Some things never change either.
The following organizations benefitted from grants awarded last month and made possible by Annette Dignam's gift of a life insurance policy:
► Denise Amber Lee Foundation
► The Hermitage Artist Retreat
► Englewood Little League
► Southwest Florida Council, Boy Scouts of America
► Charlotte County Boys & Girls Clubs
► YMCA of Southwest Florida
► Englewood United Methodist Church Foundations School
► Suncoast Humane Society
► Charlotte County Habitat for Humanity
► Kid's Needs of Englewood
► Lemon Bay Historical Society
► Charlotte County Young Life
---
MORE NEWS